LU SERIES Three-jaw Pull Style Power Chucks
| | | |
| --- | --- | --- |
| | | |
| | | Three-jaw pull style power chucks are ideal for finish machining applications where length control is required. Radial and pull back features with 0.0008" repeatability. |
Special Features
Standard accuracy for finish machining
Optional component seating confirmation feature
Pull back feature is ideal for efficient length control

Specifications
| | | | |
| --- | --- | --- | --- |
| Model | Unit | LU-08 | LU-10 |
| Jaw Stroke (Diam.) | in. | 0.284 | 0.425 |
| Plunger Stroke | in. | 0.394 | 0.591 |
| Max. Draw Bar Pull Force | kN (kgf) | 25 (2549) | 35 (3569) |
| Max. Gripping Force | kN (kgf) | 45 (4589) | 60 (6118) |
| Max. Speed | rpm | 3000 | 2500 |
| Net Weight | lbs | 57 | 100 |
| GD 2 | N.m 2 (kgf.m 2 ) | 1.40 (.14) | 3.65 (.37) |
| Matching Cylinder | | Y1225R (RE) | Y1225R (RE) |
| Matching Soft Top Jaw | | SB-BL08 | SB-BL10 |
| Gripping Range | in | 1.575-8.268 | 1.969-10 |
Chucking Force Direction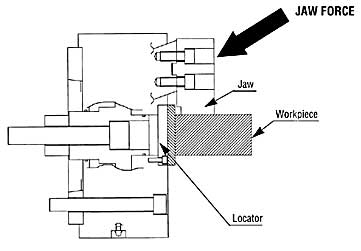 LU Series Chucks are manufactured from high grade alloy steel. All sliding surfaces are hardened and ground to assure consistent accuracy and performance.
Lubrication nipple is supplied in each base jaw.
Master Jaw Mounting
Metric tongue and groove
Mounting
Direct mounting to fit ASA B5.9 type A (interchangeable with DIN 55026).
Standard Equipment
Chuck assembled with adapter, chuck mounting bolts, soft top jaws, T-nuts and jaw mounting bolts with wrench, draw nut wrench.
Dimensional Drawings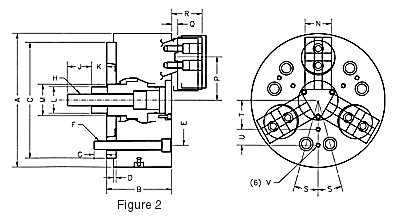 Dimensions
| | | | | | |
| --- | --- | --- | --- | --- | --- |
| Model | LU-08 | LU-086 | LU-10 | LU-106 | LU-108 |
| Spindle Mount | Ø6.6929 | A2-6 | Ø8.6614 | A2-6 | A2-8 |
| A | 8.2677 | 8.2677 | 10 | 10 | 10 |
| B | 3.5433 | 4.2126 | 4.3307 | 5.315 | 5.0394 |
| C(H6) | 6.6929 | 6.6929 | 8.6614 | 8.6614 | 8.6614 |
| D | 0.1969 | 0.1969 | 0.19685 | 0.19685 | 0.19685 |
| E | 5.252 | 5.252 | 6.748 | 5.252 | 6.748 |
| F (metric) | (6)-M12 | (6)-M12 | (6)-M16 | (6)-M12 | (6)-M16 |
| G | 0.5906 | 0.5906 | 0.9449 | 0.9449 | 0.9449 |
| H (metric) | M20 x 2.5 | M20 x 2.5 | M24 x 3 | M24 x 3 | M24 x 3 |
| J | 1.4173 | 1.4173 | 1.811 | 1.811 | 1.811 |
| K max. | 1.4961 | 0.8268 | 1.8504 | 0.8661 | 1.1417 |
| K min. | 1.1024 | 0.4331 | 1.2598 | 0.2756 | 0.5512 |
| L | 1.4961 | 1.4961 | 1.9685 | 1.9685 | 1.9685 |
| M | 1.9685 | 1.9685 | 2.3622 | 2.3622 | 2.3622 |
| N | 1.5748 | 1.5748 | 1.9685 | 1.9685 | 1.9685 |
| P max. | 2.7874 | 2.7874 | 3.3465 | 3.3465 | 3.3465 |
| P min. | 2.6457 | 2.6457 | 3.1339 | 3.1339 | 3.1339 |
| Q max. | 0.5906 | 0.5906 | 0.748 | 0.748 | 0.748 |
| Q min. | 0.1969 | 0.1969 | 0.1575 | 0.1575 | 0.1575 |
| R max. | 2.2047 | 2.2047 | 2.5591 | 2.5591 | 2.5591 |
| R min. | 1.811 | 1.811 | 1.9685 | 1.9685 | 1.9685 |
| S (degrees) | 15¼ | 15¼ | 15¼ | 15¼ | 15¼ |
| T | 1.7717 | 1.7717 | 2.1654 | 2.1654 | 2.1654 |
| U | 0.9843 | 0.9843 | 1.1811 | 1.1811 | 1.1811 |
| V (metric) | M8 x 15 | M8 x 15 | M8 x 15 | M8 x 15 | M8 x 15 |
| Figure | 1 | 2 | 1 | 3 | 2 |